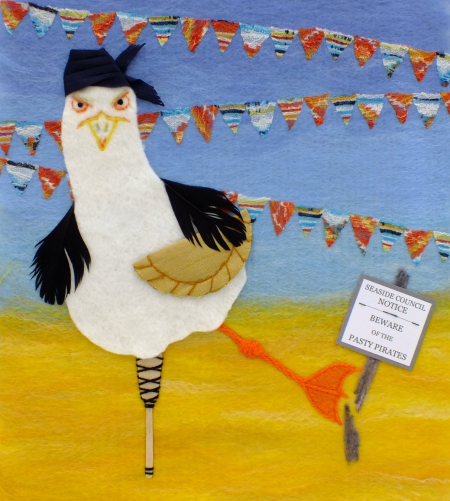 The Pasty Pirate with his stolen treasure!
Lyn
Back in 2012 I made a wet felt & mixed media picture of The Pasty Pirate inspired by various trips to the seaside - Seagulls are notorious for stealing food from tourists in UK seaside towns. The cheeky birds behave like pirates – swooping in and stealing the treasure – pasties are a favourite!
There are lots of signs in seaside towns asking visitors to be careful when eating their takeaway food so it does not get pinched from above! We are asked not to actively feed the birds as it's bad for them for the same reasons it's bad for us to eat lots of fast food. Also, they get used to an easy, unhealthy junk food diet rather than fishing for seafood and eating insects.
They are lovely birds, absolutely full of character, so after watching them many times I felt inspired to make another picture :)
This version of the pasty pirate - pictured above - is now available as a PDF tutorial in our Etsy Shop
Use code ROSIE20OFF for 20% off if you buy 2 or more PDFs :)