Detail of work in progress
By Annie: 
Here are two more tree-inspired colourful fibre "sketches" in progress - this time wide compositions, side on to the trees. I like to think of this stage as "sketching" as it gives the opportunity to play without pressure, even though sketches often will turn into finished pieces. The subject of trees offers so many possibilities for creative work that I have already swerved on a tangent from my canopies series idea (although I will come back to it and have some ideas!)



The wide compositions are not very practical for working on, photographing, or hanging on the wall but it's what I wanted to do after a walk recently where the lines, shapes and light and dark of the trunks of the trees in a wood captured my imagination - sometimes they went straight up and down with light in front and behind, and sometimes curved and bent at all angles sometimes right back down to the floor.
I'm in danger of over cooking these sketches as I've got so many ingredients spread around me now as I've been working on them on and off for a couple of weeks! It's the "messy middle" of the picture making process, but also the messy middle for my work space.  It reminds me of when you see a painter with paint dripped everywhere across their studio!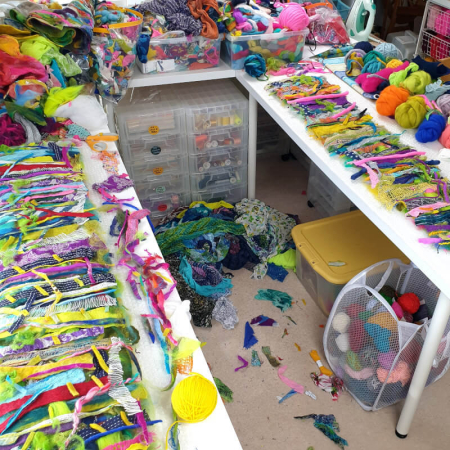 At least it's colourful and fluffy! I would like to start a few more pieces alongside these as I'm thinking about compositions but haven't got a free flat surface, I need more desks!
I hope to find more time (I always say that) to pursue more of the ideas that keep brewing. Time passes so quickly that I've been caught out again by the change in season - I didn't get to all the spring projects, certainly hardly any of the summer ones but now we are heading into my favourite season in the UK of the autumn (fall) with that refreshing change of air temperature, the nights drawing in, the cosy things creeping in.
I've decided these pictures don't have a season attached to them, for now anyway. I'll just keep enjoying the process of adding and taking away and moving things about until I'm happy and then I'll felt them!  Here are some detail photos of the work in progress and also a collage of some of the trees I saw on my walk in the woods :)