I had a bit of a play yesterday - look what I made!  OK, so I'm no expert and its a bit rough and bumpy, but luckily that's exactly what we want for adding texture to our handmade felt artwork!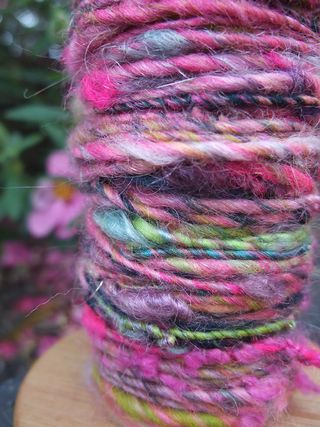 Handspun yarn is great for adding texture in handmade felt, and for ages we've wanted to be able to make our own so that we can have just a couple of metres of each of lots of colours that are custom to our projects.   I've been putting off having a go despite us buying some equipment a couple of years ago as I didn't really know what I was doing and had little time to figure it out.  However, yesterday I got brave, dusted off the carder and the wheel, watched a couple of great "how to" videos and just had a go!  I decided not to worry about being too technical and to just see what happened - especially as this yarn doesn't need to be "good" yarn - I quickly realised that I could easily create an overtwisted, knobbly, and very imperfect yarn!  Ta dah!  Perfect for felt making!
Here are my "ingredients" ready to be yummed up by the carding machine....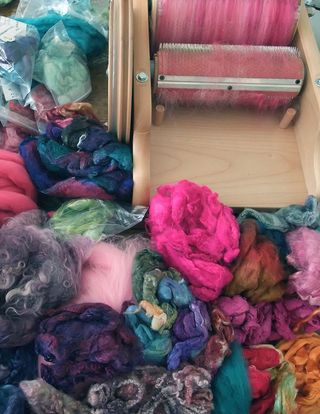 Before carding my batt I watched a handful of short videos on creating art batts, and these are the ones I liked best:
How to card an art batt on a drum carder from NeauveauFibreArts shows a technique for layering everything up before feeding it in to the carder which seems to work nicely!
Drum Carding Art Batts by AtomicBlue
Carding a Jazzy Batt by JazzTurtleCreations
After watching the last two I realised there are so many toys that I want NEED!  Especially a carder with coarser cloth and wider teeth to cope with more fibre types.  Will have to save up :-)
So, here are the fibres starting to get pulled on to the big drum - yum!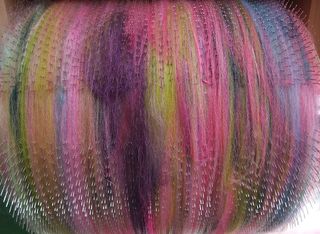 And here is my finished batt after about 10 minutes of playing with the carder and putting random colours and fibres through!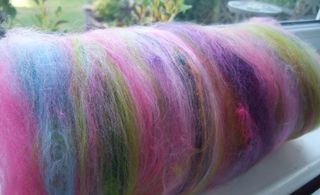 Among other things, it is made of merino, wensleydale, silks and some lovely sparkly angelina fibres although I couldn't persuade the camera to pick up the glittery detail unfortunately!
I'm a bit impatient, always looking for instant gratification, so I only watched one or two videos on how to actually spin.  I had one lesson a couple of years so thought that would do!
How to Spin Roving into Yarn from NeauveauFibreArts was the one I watched and it was a good intro.  Again, I realised I now want NEED a wheel with a bigger orifice!  I want to make thick, bobbly, highly textured yarns!
I'm sure there is a proper way to prepare a batt for spinning but I just sort of tore mine apart and had a go!  The batt didn't make much, only about 30g!  But its a start.  I need to practice making a hank, but here it is in all its imperfect glory!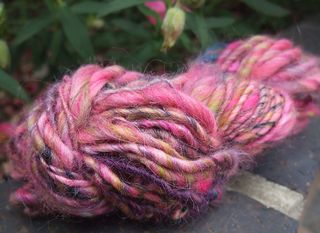 Anyway, I'm glad I got over my "fear" of having a go and now I can't wait to make loads! 
Oh, and I finally made some progress on stitching the flowers pic....
...the finished thing will be with you shortly!