With the days getting longer and brighter I had the urge to spring clean the workroom.  Mum lent a hand but not much cleaning or sorting got done, because after moving things around we of course rediscovered lots of pretty bits of leftover felt and fabrics that we didn't want to hide away again - we have stacks of charity shop gems - open weave scarves, cushion covers, sparkly tops!  So we sat in a room that looked like a ransacked haberdashery shop and planned to 're-purpose' some of it.  It's a great idea because you feel as if you're getting something for nothing.
Last year we found an interesting piece of fabric in a charity shop that begged to be used in some nuno felt.  It was extremely flimsy with a large open weave and had thin coloured stripes that reminded us of the sea.  At the time we laid out merino wool tops in sea colours then placed the material on the top.  The felting made the material 'wave' and although we liked it very much, we never got around to doing anything with it, so it went in "the box".
The piece is 26" x 14" and therefore large enough to use as the background for a picture.  So we pondered a bit and remembered that this is the year of the dragon that promises good luck, good fortune and creativity, so we thought a weedy sea dragon would be fun.  It's a close relative of the sea horse and comes in so many colours that we couldn't resist grabbing some other scraps of felt left over from various projects, a little merino waste scraped from the carding drum and a few inches of fancy yarn to needle felt a weedy sea dragon onto the nuno felt.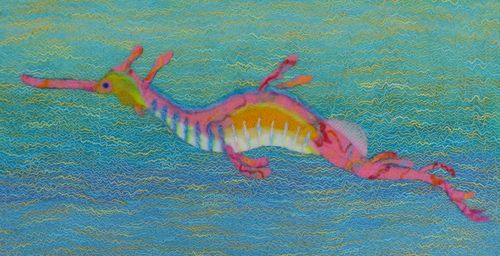 The spring clean is waiting to be done another day.....soon!