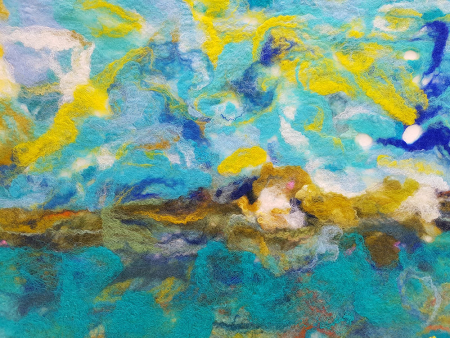 Felted scape made from long neglected batts once destined to be a skein of yarn!
Annie
I've been making more prefelts because I think it's nice to have a selection of ready made pieces to hand rather than having to make them all at once when I need them.  
I really liked making the fine cloudy pieces last time because they are so quick and easy to do, so I made a couple more of those and then decided to go bigger...  I found some old batts that I'd carded a while back that i didn't spin and thought they'd be perfect to use. They had become a bit matted and I couldn't throw them away!  So I ripped them up into pieces and pulled the pieces out to make a big piece of holey, see through prefelt, but as I was laying it out a sort of landscape / seascape started to appear, so I let it go that way.  I like making felt like this because it is so quick.  It works well as it is or for layering up in to new felt pieces, and gives a nice effect when needle felted or run through the embellisher with a cotton or silk layer.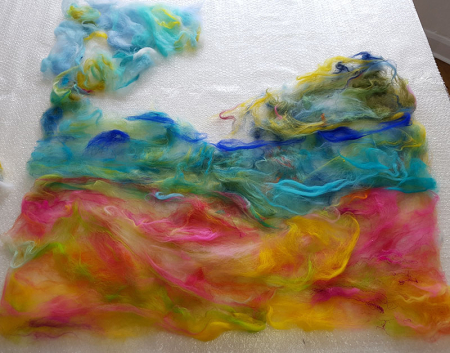 Laying out the pulled apart batts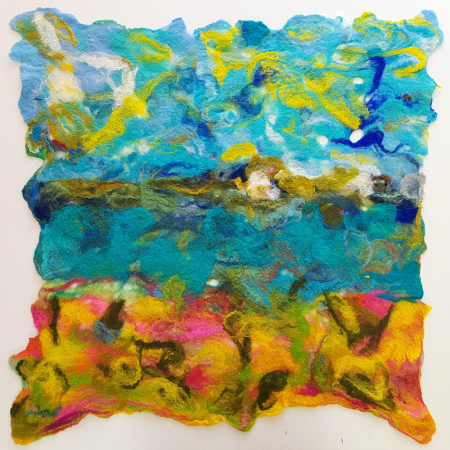 Above is the full piece (it's approx 80cm square) and I'm not sure what will become of it yet but I had a little play with some apertures and I think that although it's quite nice the size it is it might be quite good to cut some smaller pieces from it.  I always want to take the scissors to things!  I thought these 3 crops looked quite good.  Can't decide whether to cut it up or not yet.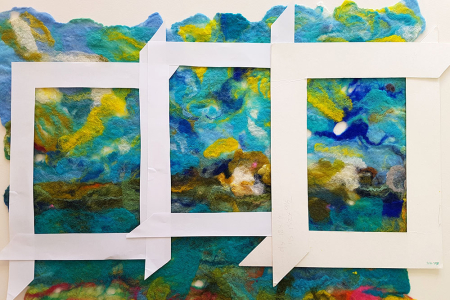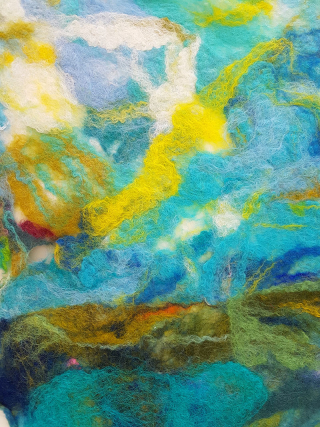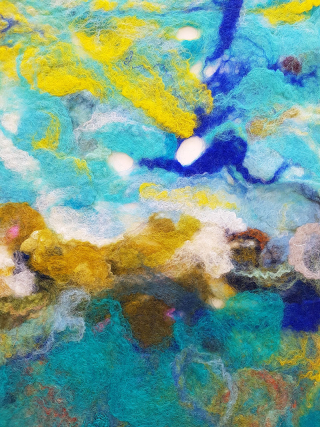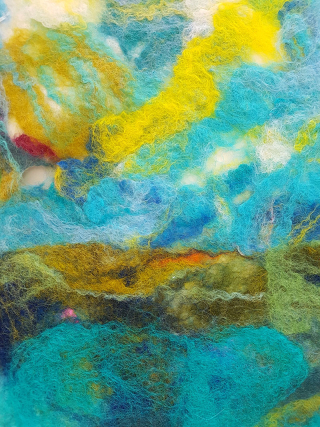 At the moment the results of this method of felting feels a bit too grown up and serious so I want to find ways to liven it up or make it a bit more fun.  Maybe some simple bright long stitches, or some tiny stitched details hidden away.  Don't know yet. 
I love feltmaking and textiles, I also love to play with paint and paper sometimes. Feltmaking and all things fibre are definitely the thing that I enjoy the most but sometimes I do envy the freedom with which painters and collage artists can layer, change, cover up, sprinkle, dot, spray and dash their work to give such a wide array of pleasing effects, often very quickly.  There is a crispness and a softness, a dark and light achieved with printing and layering paint and collage which is hard to achieve with fibres, so I see it as a challenge and a joy to keep on experimenting and playing with fibres to achieve different effects and combinations and ideas. 
Here is what I have started using the samples and prefelts from last time - all just felted with inclusions, no stitching as yet.  Not too much thought or specific design just functional really, but some of them came out well.  I like the blue yarn circle and the layered flower.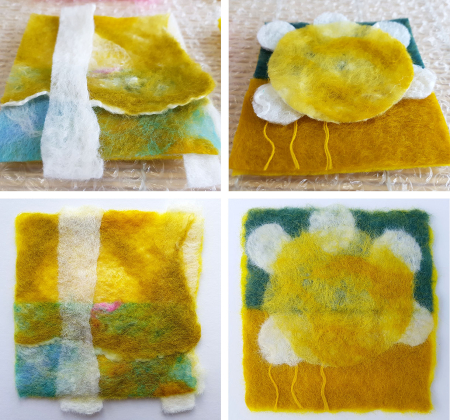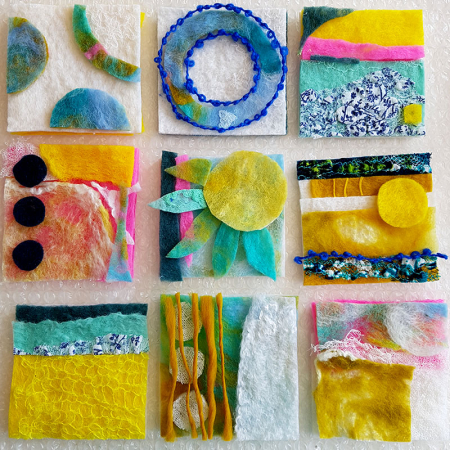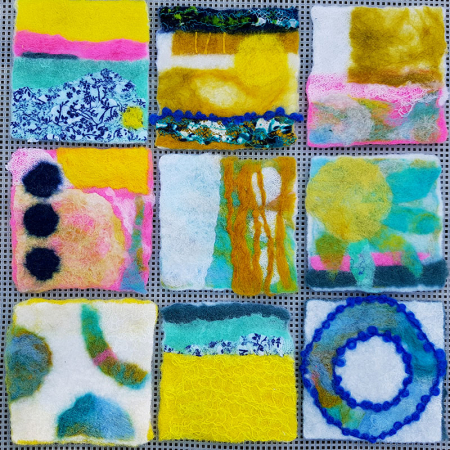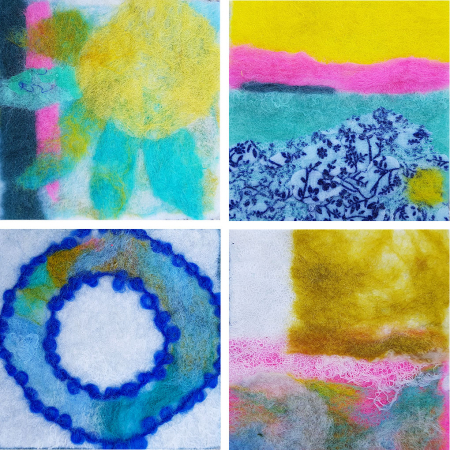 Some of them turned out great, some not so great.   These were all made by layering on to a fine prefelt backing cut into squares, either yellow, white or pink.  I think I'll also try laying down dry fibres, putting all the bits on (maybe in a large sheet) then cutting it up to create the squares.  That would help to keep the colours themed, but different detail in each one.  I was going to trim the edges but I think I like the fibre-y edges in this case.
Another thing I tried was using the fine cloudy felt to stitch into then add fabric and silk and use the embellisher on it.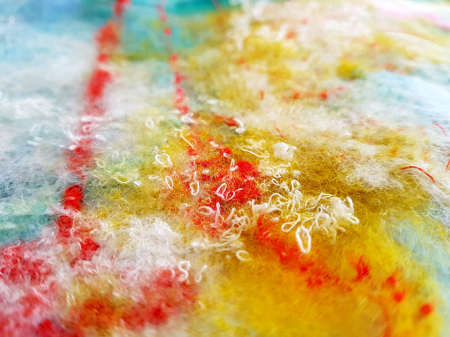 I think the back was more effective than the front!

I quite like the displays of the samples as a series of arrangements of squares - it would be a nice way to make work and mount it - it's a way of working small to work big if you want to.  To tie the squares together they could be themed.  You could choose to create perhaps flowers (favourite subject!) - with just the colours, the close up detail, the far away view or abstract.  This is something else to put on the list to think about! :)