Lyn
If you don't fancy resist work but you want to make 3D felt - you can.
Flat felt can be shaped simply by stitching - just like any kind of fabric.  For example, if you put running stitches around a circle of fabric then draw the thread up, you have a 3D shape.
Or you can cut shapes from a piece of flat felt then stitch them together, either by hand or by machine, to make 3D felt.
When you know what shape you want to make, test out your idea, before you take the scissors to the piece of flat felt, by making up your design using paper and sticky tape.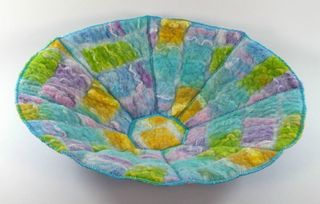 This ornamental bowl was made from a flat piece of textured handmade felt, cut and stitched.  It measures 24cms across and the rim stands 5.5cm high.  
If you like making felt vessels over a resist, then you already know how satisfying it is, and during the final stages of shaping, when your soapy hands rub around the emerging form, it almost feels like making a clay pot.  But instead of putting it into a kiln, you put it into an airing cupboard!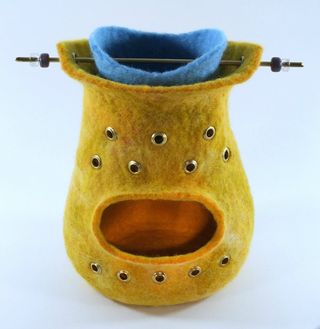 The inspiration for this ornamental felt vessel was a ceramic essential oil burner.  The main pot was made on a top open resist and the eyelets were added after the felt dried.  The little blue inner pot was also made on an open top resist and is suspended by a thin brass rod with beaded decoration.  It stands 16.5cms tall and could be displayed with a battery powered tealight in its base.
There aren't many creative people who just stick to one thing.  We've tried so many arts/crafts - and enjoyed them all - but we're realistic enough to know that there are just not enough hours in the day to make everything we'd like to.
But even just dabbling in other arts/crafts is a way to relax and expand your ability with your favourite pursuit.
With this month's issue of Make and Craft magazine was a free canvas tote bag.  It was literally a 'blank canvas' that begged for decoration.  
A little dabbling with applique quite appealed.
The fabric for the flowers was pulled from our stash and the petals were just rough cut. The stitching was easy on the top two flowers, but a bit fiddly on the bottom one.  More than once a few pennies were dropped into the swear box as the back of the bag got caught in the stitching! 
Annie
Hello, have just got back from visiting my in-laws.  Had a lovely time and got spoiled rotten :-)
Not only did I return home with an extra inch on my waist, and a hamper packed full of Waitrose goodies for my anniversary present, my nanny-in-law gave me these beautiful art silk machine embroidery threads.  I will have to find a special little project for these, they're so beautiful - the photo really doesn't do the thread's colour and shine any justice.  I will just have to make sure I don't let my hoarding "they're too lovely to use" instinct kick in!
I've also started this picture of some big moony flowers which I've tried to make look sort of drawn by a child's hand.  Some simple embroidery after felting should be just the ticket. But it's about 70cm x 70cm so its going to take a bit of elbow grease to felt.  For me that's sometimes a laborious bit of making a picture because its the slowest and least sparkliest part! I absolutely love the laying out of the fibres and the twinkly bits at the start of the process, and the embroidery and finishing at the end, but the bit in the middle can be a little bit boring on a bigger piece.  Had a great idea though - not sure why I've not thought of it before.  I've just been to the library to borrow some audio books to help pass the time during the felting process.  They're only 20p per day to borrow from my library, which is good cos I can (hopefully) see me getting through a lot this year!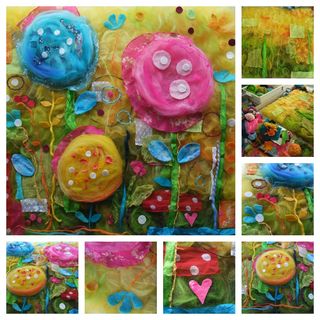 I picked Mike Gayle's The To-Do List because it sounds just like me!  Maeve Binchy's Nights of Rain and Stars mainly because it is set in Greece.  And M C Beaton's Agatha Raisin and the Curious Curate for a bit of light hearted murder mystery (it's also narrated by Penelope Keith so a nice voice to listen to!).   So nothing that should require too much concentration just a little light entertainment for while I'm rubbing, rolling, rubbing, rolling!